LANmark-OF ENSPACE Indoor MPO-MPO Pre-Term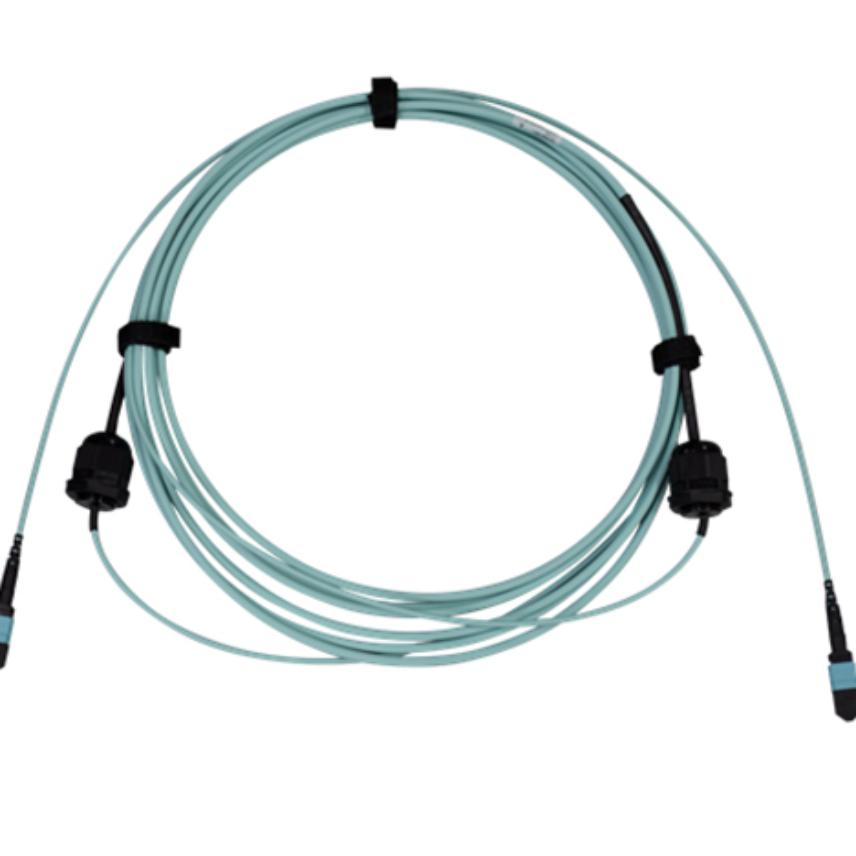 Factory terminated MPO-MPO fibre assembly
Pre-Term cable with high CPR rating: Cca­s1,d1,a1
Small cable diameter reduces required data centre space
Flexible fan-out for ease of installation in patch panel
Les mer
Beskrivelse
Beskrivelse
Standarder
Internasjonal

ISO/IEC 11801
MPO-MPO Pre-Term characteristics
The MPO-MPO Pre-Term has pinned (male) connectors. This matches with the un-pinned (female) connectors in the ENSPACE modules and the female Plug&Play modules.
The MPO-MPO Pre-Terms have PG-13 cable glands on both sides that provide a solid fixing in the LANmark-OF ENSPACE and Plug&Play patch panel slots.
The Pre-Terms are installed by laying. For longer lengths a detachable pulling eye can be used for installations by pulling.
The "xxx" in the N-number is the length in metre between the cable glands, i.e. the Pre-Term length between the rear of the patch panels.
In order to reduce overlengths in data centers the Pre-Terms are custom made and available with 1m increments.
Cable characteristics
The cable used for the Pre-Term is the "LANmark-OF Double Jacket Indoor Cable Cca" and is optimized indoor installations. The cable has an inner and outer jacket and 2 layers of Aramid yarns.
The double jacket makes the Pre-Term more robust between the racks.
Inside the panel the outer jacket is removed and the inner jacket allows for a flexible fan-out for installation inside the patch panel.
The cable has been tested for fire performance according to the new Construction Product Regulation: EN50575:2014 +A1:2016. It has a very high fire performance with minimal fire load and spread, smoke density, droplets and acidity: Cca­s1,d1,a1.
Polarity and optical performance
The Pre-Terms are available with a method B or C polarity according to standard TIA-568.3-D-2016.
For a duplex transmission like for 10GBase-SR (10G) the transmit-receive polarity in the channel is maintained with one of the following approaches:
Straight cassette on side A + Method C Pre-Term + straight cassette on side B.
Straight cassette on side A + Method B Pre-Term + crossed cassette on side B.
Both approaches use the same duplex LC patch cords on both sides.
For parallel optics for multimode like for 100GBase-SR4 (100G) method B Pre-Terms can be used with key up/key down adaptors on both sides of the channel. The same straight female-female patch cords can be used on both sides.
The insertion loss of a MPO-MPO connection is measured according to standard IEC61300-3-45.
The return loss of a MPO connection is measured according to IEC 61300-3-6.
Karakteristikker
Karakteristikker
Dimensjonsegenskaper
Dimensjonsegenskaper
Bruksegenskaper
Bruksegenskaper
Temperaturområde under installasjon
Lagringstemperatur område
Vår websider
Velg ditt land for å finne vår produkter og løsninger