Calculation program for heating cables and heating cable mats.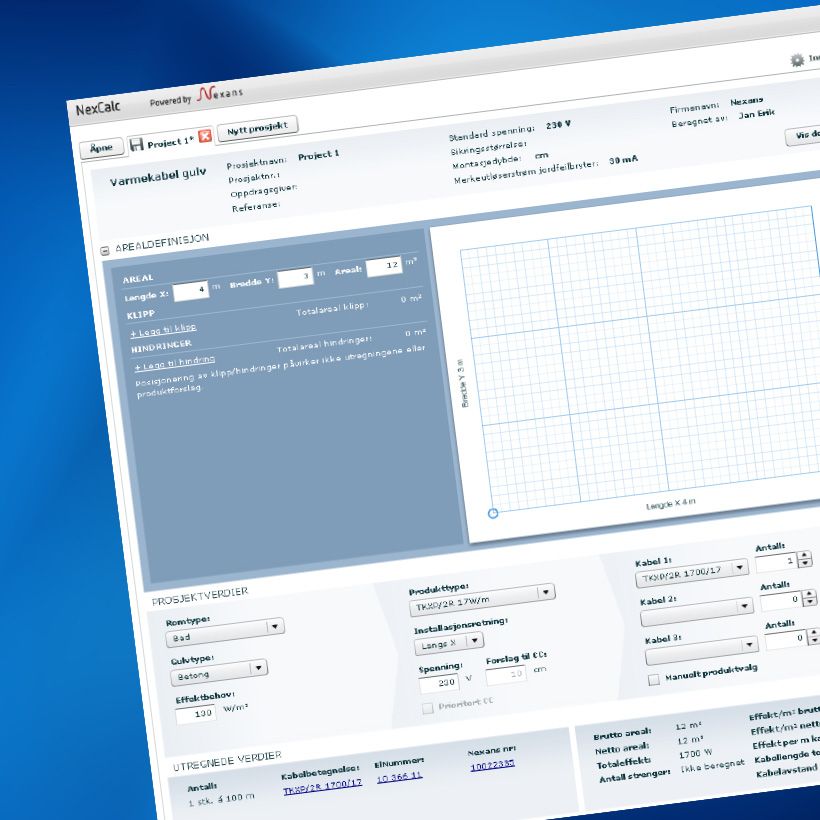 For the locally installed version please follow this procedure for installation:
With NexCalc you can:
work with several projects at the same time
download the application and work online/offline. The locally installed version is also able to save projects in ncp format.
do calculations with heating cable mats in addition to heating cables
easily define your room/area, without any use of complex coordinates.
Easy to use:
Velg prosjekttype og angi anleggsdata (adresse, installatørnavn, osv.)
Oppgi/definer fysiske data (romstørrelse, romtype, gulvtype, varmebehov).
Velg ønsket produktfamilie/produkttype (f.eks. TKXP/2R 10W/m)
Kontroller/vurder resultatene. Gjør eventuelle endringer ved hjelp av "Manuelt produktvalg".
Skriv ut rapport (pdf) og lagre prosjekt hvis ønskelig (i *.ncp format).
Project types in NexCalc:
Floor heating.
Snow and ice melting (area).
Snow and ice melting in stairs.
Frost protection of gutters and drains.
Frost protection of pipes.