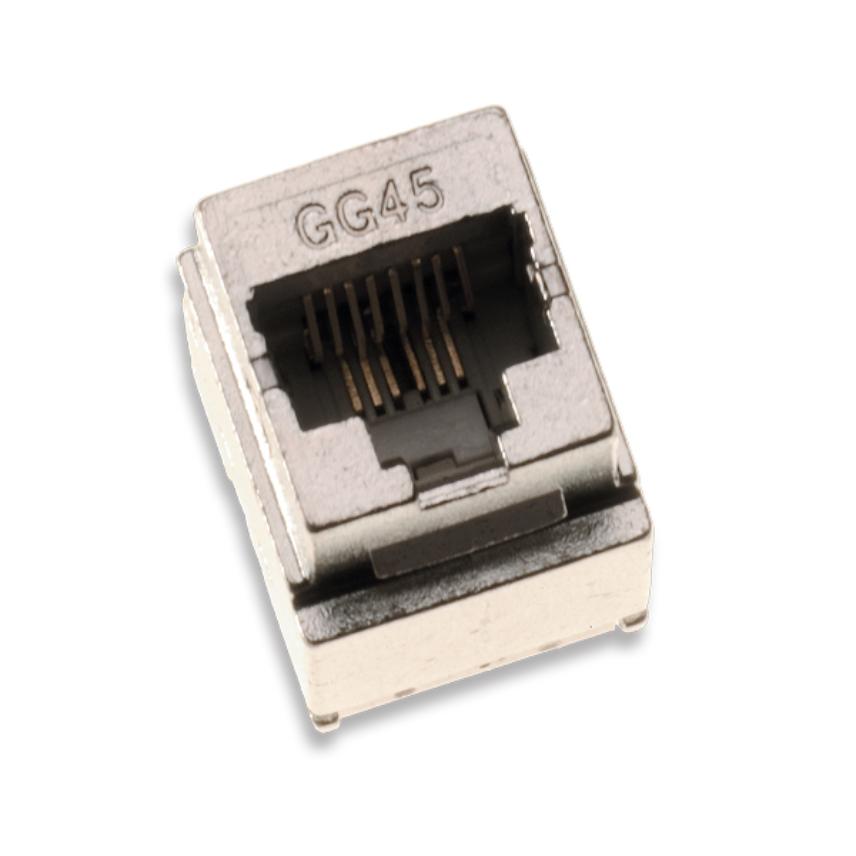 High speed '2 in 1' Multimedia Connector
Supports data applications up to 600 MHz Class F
Supports CATV VHF and UHF up to 1000MHz
Backwards compatible
Switch Inside
Compatible with ISO 11801 (enterprise cabling)
Compatible with ISO 15018 (residential cabling)
Fits in all Nexans modular Snap-In structural hardware
Supports POE Plus applications (15 Watts per pair)
Read more
Description
Description
Standards
International

ISO/IEC 11801
Description
LANmark-7 GG45 is a standardised High Speed '2 in 1' Snap-In Connector, which contains a full Cat 6 (RJ45) Interface as well as a full Cat 7 Interface, using additional contacts for the 600 MHz transmission.
LANmark-7 offers uniquely backwards compatible services realised through an incorporated switch, which activates a maximum of 8 out of 12 contacts. For 100/250 MHz transmission performance, the upper 8 RJ45 contacts are used, for 600 MHz the 8 contacts in the extreme corners are used.
The LANmark-7 GG45 Snap-In Connector is part of the Nexans modular Snap-In system and fits in all structural hardware designed for this range. It is a full-screened connector with 360° EMC protection. 4 versions of LANmark-7 GG45 are available: one for solid cables, one for stranded cables, a UL version and a Heavy Duty connector for harsh environments. The version of GG45 for stranded wire is especially made for networks, which use 3/4 Connector Links and so called Consolidation Points to achieve higher flexibility. GG45 for stranded wire can terminate single ended flexible patch cords at those Consolidation Points.
An optional adapter clip can be added to fit the outer dimensions of the international well-known keystone format.
Application
LANmark-7 GG45 supports all data applications defined for Cat 5, Cat 5E, Cat 6 and Cat 7 such as 10BaseT, 100BaseT, Gigabit Ethernet, 1000BaseTX, 1GBaseTX2 over Class F, 1GBaseTX4 over Class F, 10GBaseT according IEEE802.3.AN, POE Plus, 155 ATM, 622 ATM, 1G ATM (CB1G) ..... .
Performance
The LANmark-7 GG45 Snap-In Connector has been designed to reach the highest performance in Cat 6, Cat 7 and broadcast applications (as for example ISO 15018 residential cabling). It has outstanding performance for attenuation (insertion loss), NEXT/FEXT, Power Sum NEXT/FEXT and RETURN LOSS. A metal cross inside the connector ensures the high NEXT performance in Cat 6 and Cat 7 mode. Excellent Return Loss Values ensure that LANmark-7 GG45 in addition to all Data applications is best suited to support CATV signals up to 1000 MHz.
Resources
Resources
Selling & delivery Information
Guarantees
The LANmark-7 GG45 Snap-In Connector is fully compliant with the current ISO Cat 6 and Cat 7 standard and exceeds all parameters with substantial headroom.
When combined with LANmark Cat 6 or Cat 7 Cables and Patch Cords a full 25 year Class E and F Channel Warranty can be obtained.
Installation
The LANmark-7 GG45 Snap-In connector is designed to be terminated without punch down tools. For fast and easy installation of large volumes, an optional Comfort Tool can be used.
Versions for solid cable: accepts 24, 23 and 22 AWG cable
Version for stranded cable: accepts 26 AWG flex cable
Fast termination of cable using Nexans wire organiser
Colour code : TSB568B preferred
Passes all tests for POE Plus Requirements (IEC 60512-99-001 Ed.1)
Our websites
Select your country to find our products and solutions