12xLANmark-6A DINRail m/skj RJ45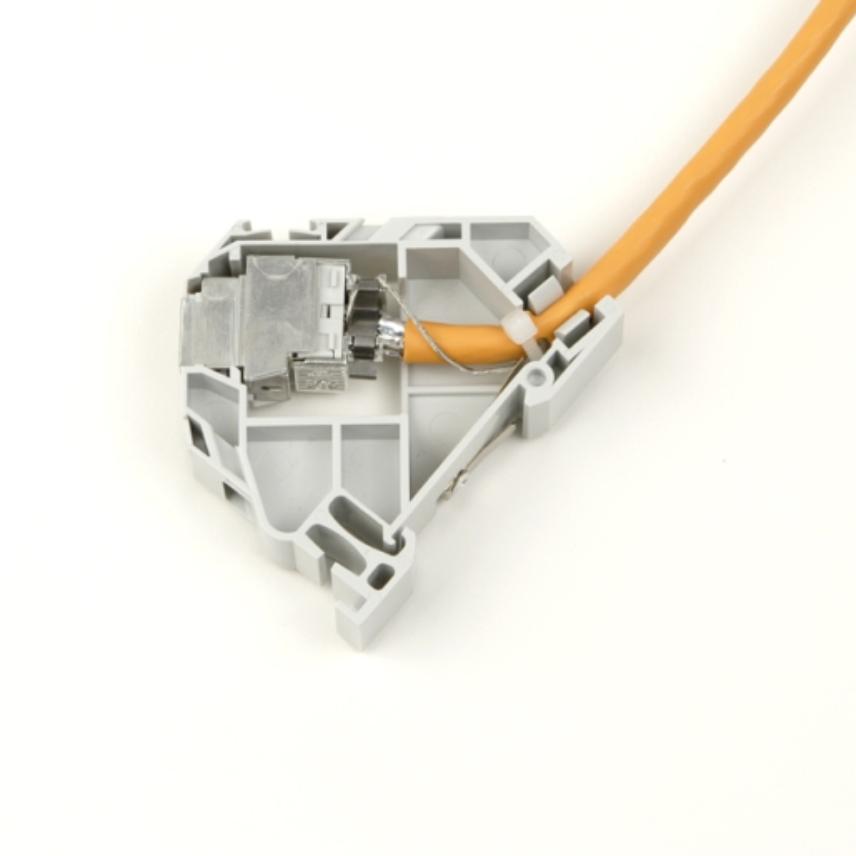 For DIN-Rail mount (35mm)
Data connection for the industry
Easy termination, without punch down tool.
Includes Mount + LANmark-6A shielded connector
For technical enclosures, Wireless Access Points, Industrial cabinets
Les mer
Nexans ref. : N20i.004
Country ref. : 6950920
EAN13 : 3427610084959
Description
Beskrivelse
Standarder
Internasjonal

ISO/IEC 11801; ISO/IEC 24702
Application
The LANmark Industry DIN-Rail mount is designed to enable the installation of LANmark-6A Snap-in data connectors in industrial cabinets fitted with a 35mm DIN-Rail. Several DIN-Rail mounts can be joined together to form a row. The LANmark-6A connector exceeds the requirements of the ISO/IEC 11801. As such it supports all data applications defined for Cat 5, Cat 5e, Cat.6 and Cat 6A, such as:
10baseT
Fast Ethernet
Gigabit Ethernet
10 Gigabit Ethernet
155 ATM
622 ATM
1.2 ATM
Industrial Ethernet
Performance
The LANmark-6A Snap-in connector has been designed to reach the highest performance in Category 6A. It has been tested as specified in the TIA/EIA-568-B.2-1, the IEC 60603-7-5 (screened) standards. Furthermore, it complies with the Terms and conditions for use of the EC Verified marking on generic cabling products, as certified by Delta independent testing.
Installation
The LANmark-6A Snap-in connector is designed to be terminated without punchdown tool. For fast and easy installation an optional comfort tool can be used.
Fast termination
Colour code : TSB568A & TSB568B
Can be used with all types of cables : UTP, F/UTP, SF/UTP and S/FTP
Accepts 24, 23 and 22 AWG cable, PUR, LSZH
For all LANmark industrial cables
Characteristics
Karakteristikker
Konstruksjonsegenskaper
Konstruksjonsegenskaper
Dimensjonsegenskaper
Dimensjonsegenskaper
Length cable end on inner side
Elektriske egenskaper
Elektriske egenskaper
Mekaniske egenskaper
Mekaniske egenskaper
Bruksegenskaper
Bruksegenskaper
Funksjonsbeskrivelse komponent
Cabling and Connectivity solutions
Industrielle installasjoner
Elektromagnetisk interferens motstand
Maks. Kontinuerlig ledertemperatur