LANmark-6A S/FTP LSZH + PE Sort 500m trommel utendørs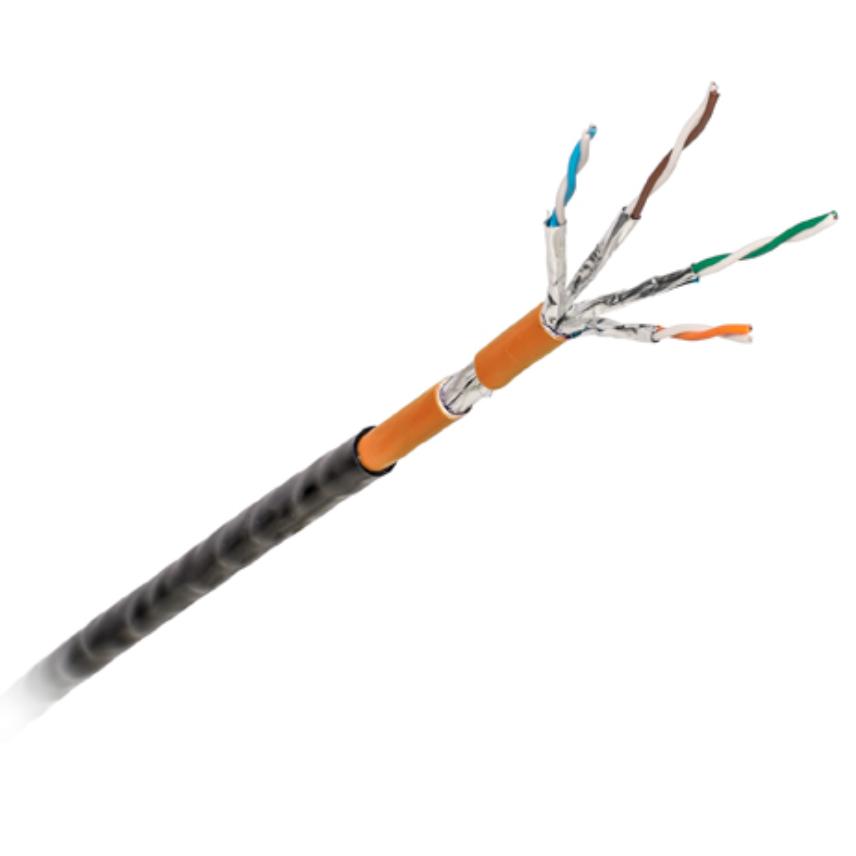 For installation in industrial premises
High shielding performance for harsh environments
Enhanced mechanical properties
Designed to support industrial Ethernet based automation
Optimised for use with LANmark connectors
PE outer jacket
LSZH inner jacket with reaction-to-fire performance according to CPR classification Dca-s2,d1,a1 (h/EN50575:2014+A1:2016)
Les mer
Nexans art.nr. : N10i.005-ODKF
El.nr. : 1067304
EAN : 3427630099612
Description
Beskrivelse
Standarder
Internasjonal

EN 50173; EN 50288-4-1; IEC 61156-5; IEEE 802.3bt (PoE++); ISO/IEC 11801; ISO/IEC 24702
Specification
The high performing LANmark Industry S/FTP LSZH + PE cables meet or exceed all Category 6A parameters. They comply with the electrical and mechanical requirements of the ISO/IEC 11801-3:2017 standard for industrial premises and with the MICE rating for environmental conditions.
When terminating the cable with LANmark-6A connectors, the Class EA Permanent Link requirements of ISO/IEC 11801 are met.
When used with LANmark-6 connectivity, optimal headroom to 250MHz Class E performance is ensured.
The cables offer a protective PE sheath which is water, UV and moisture resistant. They can be installed outdoors in ducts and are suitable for use indoors when the PE sheath is removed.
This cable version is made with an inner LSZH jacket complying with reaction-to-fire performance Dca-s2,d1,a1 according to the European CPR classification. The cable with its outer PE jacket is classified Fca.
Application
LANmark Industry S/FTP LSZH + PE cables will support Industrial Ethernet applications as well as high speed data applications.
10Base-T,
100 Base-T
1GBase-T
10GBase-T
Industrial Ethernet
Screening
LANmark Industry S/FTP LSZH + PE cables consist of individually screened pairs, bundled by an overall braid. They comply with the EMC requirements for screened cables and show excellent transfer impedance values. They are designed for electrically "noisy" environments.
Transfer impedance (Grade 1)
10mOhm/m at 1 MHz
10mOhm/m at 10 MHz
30mOhm/m at 30 MHZ
60mOhm/m at 100 MHz
Characteristics
Karakteristikker
Konstruksjonsegenskaper
Konstruksjonsegenskaper
Aluminium / Polyester tape
Low smoke, zero halogen thermoplastic compound
Dimensjonsegenskaper
Dimensjonsegenskaper
Diameter over isolert leder
Elektriske egenskaper
Elektriske egenskaper
Maks ledermotstand DC v/ 20 °C
Gjensidig (par) kapasitans (nF/km)
Transmisjonsegenskaper
Transmisjonsegenskaper
Forplantnings forsinkelse, maks @ 100 MHz
Coupling attenuation at 30 MHz
Mekaniske egenskaper
Mekaniske egenskaper
Maks. tillatt strekk v/ utlegging
Bruksegenskaper
Bruksegenskaper
Temperaturområde under installasjon
Min. bøyeradius ferdig installert
Minimum Bend Radius - During Installation (under Tension)
Elektromagnetisk interferens motstand
Ressurser
Ressurser
Vår websider
Velg ditt land for å finne vår produkter og løsninger