LANmark-OF MD PE/PE (Multitube Dielectric Armoring - Outdoor)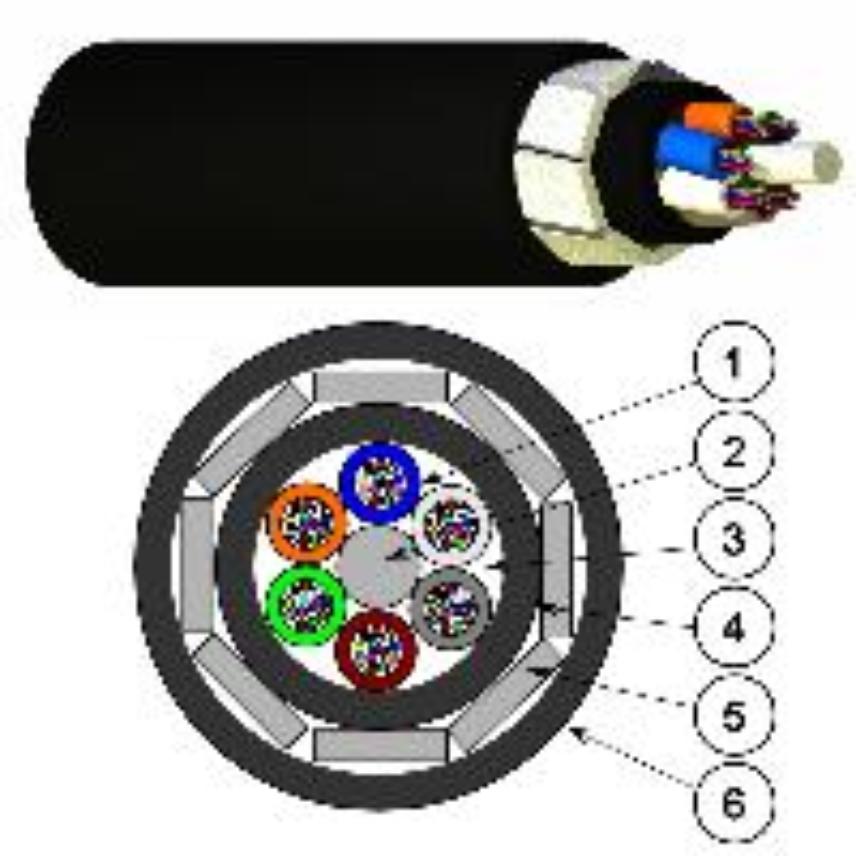 Multitube outdoor cable for direct burial
Dielectric protection with flat fibre reinforced plastic
Available in singlemode till 96F
Provides full rodent protection and high crush resistance
Inner and outer jacket in PE
Les mer
Beskrivelse
Beskrivelse
Standarder
Internasjonal

ISO/IEC 11801
Description and Application

The construction is suitable for use outdoor for direct burial.
It consists of a multitube structure protected by full dielectric flat fibre reinforced plastic. This provides excellent rodent protection and high crush resistance.The cable has an inner and outer HDPE jacket .
The multi tube design has a capacity of up to 96 fibres. Diameter of the fibres is 250 um. Termination of these fibres is done with splicing of pigtails.
The cable is watertight due to the gel in the loose tube and the watertight yarns.

Construction

Legend accompanying the cross section drawing:
Tubes with 250 um fibres
Central FRP strength element
Waterblocking yarns
Inner sheath of PE
Reinforcing flat FRP
Outer sheath of PE
Features
Outdoor cable for direct burial
Designed for termination by splicing
Multitube cable around central strength element
Dielectric armouring with flat fibre reinforced plastic (FRP)
Waterproof structure
Excellent rodent resistant
PE outer sheath
High crush resistance
Available in singlemode
Available in 24-48-72-96 fibres
Karakteristikker
Karakteristikker
Konstruksjonsegenskaper
Konstruksjonsegenskaper
Dimensjonsegenskaper
Dimensjonsegenskaper
Mekaniske egenskaper
Mekaniske egenskaper
Maximum pulling force (IEC 60794-1-2-E1)
Maximum operating pulling force
Motstand mot sammenpressing (IEC 794-1)
Bruksegenskaper
Bruksegenskaper
Temperaturområde under installasjon
Lagringstemperatur område
Vår websider
Velg ditt land for å finne vår produkter og løsninger