Patchepanel 24 Snap-in Fast skuff Hvit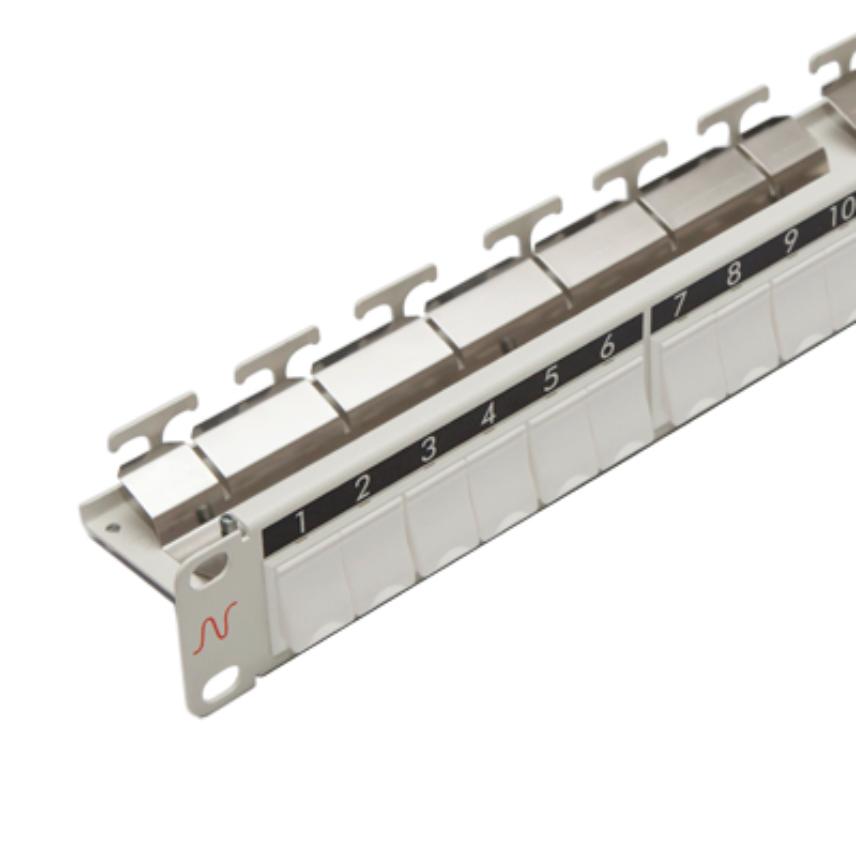 Kompatibel med alle Snap-In kontakter
24 Snap-In-porter med støvdeksler
Clip-on mekanisme
Eksklusivt Auto-Connect jordingssystem
Universell design som støtter uskjermede og skjermede konnektorer
Finnes også i svart
Les mer
Nexans art.nr. : N521.661
El.nr. : 6950812
Beskrivelse
Beskrivelse
Standarder
Internasjonal

Manufacturer specification
Nexans Snap-In range of patch panels are designed to accomodate any of the Snap-In connectors in the LANmark product family (LANmark-7A, LANmark-7, LANmark-6A, LANmark-6, and LANmark-5).
The Snap-In panels feature an exclusive Clip-On system to secure the connector in the panel and to provide a simple means of earthing shielded connectors to facilitate installation. Connection of the panel to earth is achieved with a unique Auto-Connect feature removing the need for individual bonding conductors.
The panels also have a series of complementary cable management products such as blank panels and patch cord guides.
The patch panels are designed for standard 19" enclosures, are 1U high, and support the following common features:
- 24 Ports with shutters
- Designed for Screened and Unscreened Snap-In connectors
- Compatible with all performance categories of connector
- Clip-On mechanism for simple earthing
- Exclusive rear cable management facilities
- Robust construction
- Printed numbering for port labelling
This panel features vertical "T" clips for rapid cable retention which allows loading of the panel in around 25% of the time needed to fasten tie wraps which leads to time saving during installation.

Karakteristikker
Karakteristikker
Konstruksjonsegenskaper
Konstruksjonsegenskaper
Dimensjonsegenskaper
Dimensjonsegenskaper
Bruksegenskaper
Bruksegenskaper
Good mechanical resistance
Mekanisk levetid/koblingsoperasjoner
Vår websider
Velg ditt land for å finne vår produkter og løsninger