LANmark German Style Angled 50 x 50 Module 1 Snap-In White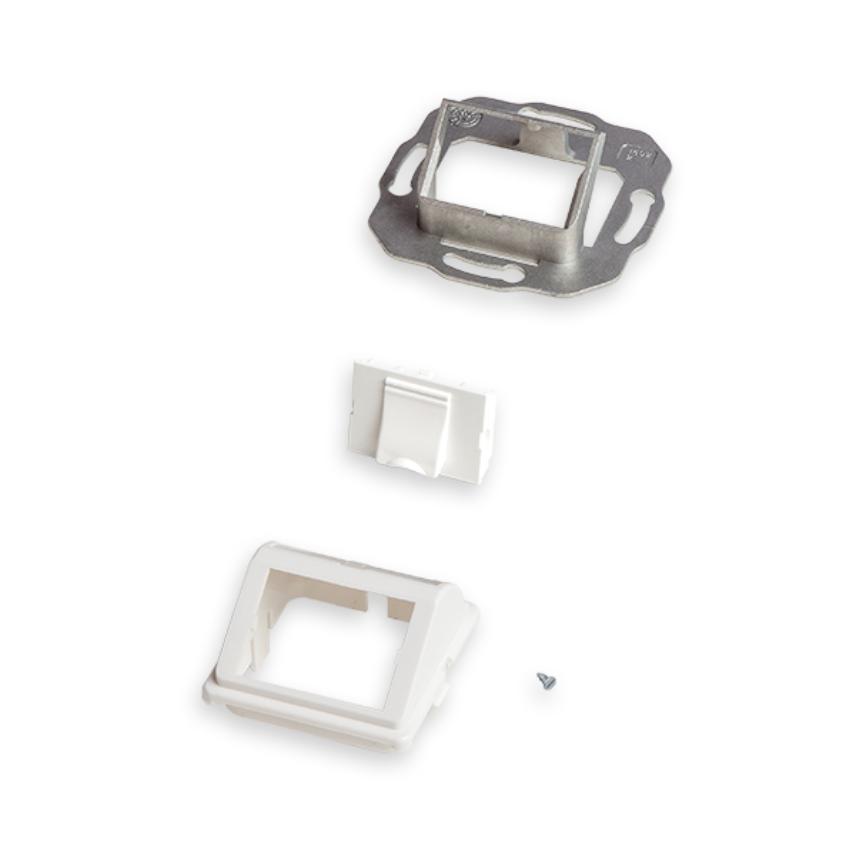 German style 50 x 50 mm outlet module
Kit with metal mounting frame and plastic front module
Angled design
Accommodates all LANmark Snap-In connectors
Suitable for both copper and fibre
1 port
Colour white (RAL 9010)
Also available in 2 port version
Also available in ivory (RAL 1013)
Supplied with screw
Les mer
Nexans art.nr. : N423.701N
Beskrivelse
Beskrivelse
Standarder
Internasjonal

Manufacturer specification
Application
This German style 50x50 angled module can accomodate 1 LANmark Snap-In connector.
It is also designed to hold a fibre Snap-In adaptor, LC or SC, duplex or simplex.
For detailed information on Nexans Snap-In connectors, please refer to the corresponding datasheets.
Guarantees
The plastic material is UL 94V0
Installation
The Snap-In connector easily clips in the shuttered 1 port module, which then is mounted into the metal frame without the need for any tools.
The metal frame has vertical and horizontal mounting holes for maximum installation flexibility.
Once the 1 port module is installed in the metal frame, the 50x50 front module can be simply clipped into the metal frame without any tools or fixings.
A self-tapping screw, which is supplied with the outlet, can be additionally used to improve the retention of the outlet when installed into non-Nexans branded wall frames or trunking systems.
Due to the angled position of the connectors, the minimum bend radius of the cables is maintained, even in situations where depth is restricted.
Features
Labelling window for easy management and port identification.
Compatible with all Nexans Snap-In format connectors and adaptors.
Compatible with Nexans German style structural hardware.
Fits into a wide range of German style 3rd party frames, surface mount boxes and trunking.
Allows vertical and horizontal mounting.
Shutter is removable and can be replaced with a coloured version in order to differentiate between various services or applications.
Included in the kit:
Metal mounting frame
Shuttered 1 port Snap-In module
50x50 front module with labeling window
Self-tapping screw
Optional:
Coloured shutters (bag of 100):

Red - N421.701RED
Blue - N421.701BLU
Green - N421.701GRE
Yellow - N421.701YEL
Orange - N421.701ORA
Dark Grey - N421.701DGR
Black - N421.701BLA
Karakteristikker
Karakteristikker
Konstruksjonsegenskaper
Konstruksjonsegenskaper
Dimensjonsegenskaper
Dimensjonsegenskaper
Vår websider
Velg ditt land for å finne vår produkter og løsninger