Heating cables
This is how TKXP became TQXP
Jun 13, 2022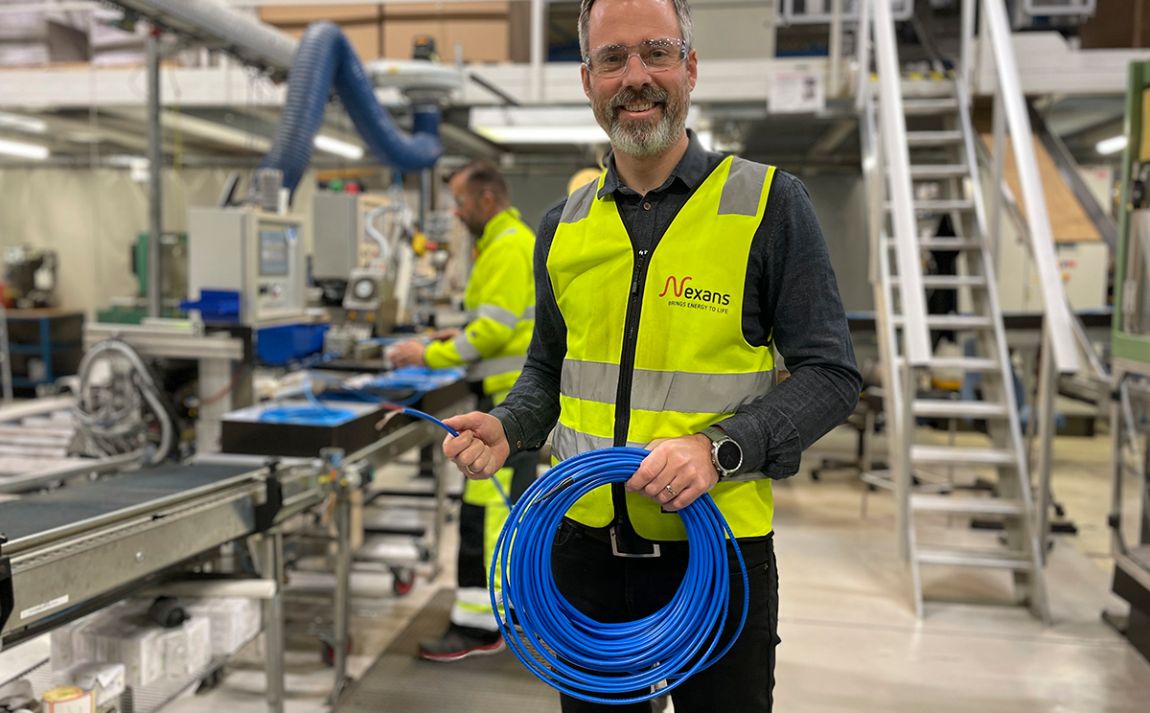 Norway's most popular heating cable is getting even better; on many levels. By the way, plan is a key issue for Nexan's new baby.
- Is it not nice?
Factory manager Torbjørn Blomsnes at Nexans' production facility at Langhus crawls along the office floor and lays heating cable.
He is happy with the result. For this is the new version of Nexans blue heating cable now called TQXP. The cable is thinner and much lighter than its predecessor TKXP, and easier to lay. One of the most difficult things about both the old and the new cables is actually the name.
- We have done this with lead until now, Blomsnes explains. - That is, to make the cables behave and be obedient during laying. This is one of the reasons why very many Norwegian electricians have sworn to TKXP when the result may be the best possible.
For Norwegian conditions
It is not entirely coincidental that these cables originated and were manufactured in Norway. Heating cables are made in many places in the world; also in places where the requirements for production and assembly are not as high as in this country. Cables that are thinner, and that bend, as Blomsnes says.
And this can be fine where conditions are different, and the wage level of the fitters is far lower than in Norway. Then it does not matter if a fitter or wood has to fight with a stubborn cable for a few hours.
- But in Norway we think differently, Blomsnes explains.
- We know that Norwegian conditions with other weather conditions and higher standards require better products. It is a bad economy to be labor-intensive in Norway.
An easier job
One of the reasons why TKXP has become TQXP is the consequences of lead.
- Lead will be phased out as a material in most industries, and heating cables are no exception, says Blomsnes, and primarily due to the pollution it causes. But lead also leaves other footprints that one would like to be without:
- In addition to being harmful, lead is expensive and heavy, Blomsnes explains.
- It requires resources to extract it, and not least to transport it. And when our heating cables are no longer lead-heavy, the job no longer becomes so physically demanding for the fitters. The weight of the new cables is actually only approx. a third of the old.
- Thus, you can lay twice as large areas as before, and still handle a lighter cable coil.
More improvements
When Nexans began developing the new cable, they had several goals. The primary was to get rid of the lead. Then you also got a lower cross section on the cable, and a slimmer and lighter cable. This made it possible to make longer units, without the fitters getting a higher load during the job.
- We are a supplier of products in the top quality layer. So when we removed the lead and had to make a "new" heating cable anyway, we also had to see if we could make other elements better, says Blomsnes.
- Especially considering that we still provide a 20-year guarantee.
Four of the most important new elements are these:
The screen, which was previously made of lead, has now been replaced by copper and aluminum.
The ground wire is now ultra-flexible and consists of many more and thinner wires of annealed copper.
The joints on the cable are integrated, and are covered by even, unbroken insulation, shield and outer sheath.
The end finish is compact, completely sealed, and completely waterproof.

Larger product family
The fact that TQXP has slimmed down to a third of the weight of TKXP has also changed the size of the kits delivered.
- Now you can put larger surfaces in one crank, without straining the body too much, Blomsnes states. And the cables can of course be used where you used the previous generation cables from Nexans. They can be laid in cast floors (both traditional and low-rise), in wooden beam layers, snow melting systems, soil heating and frost protection of, for example, drains. They can also be mounted on rebar.
Think blue!
- After all, you do not need to compare the two heating cables, Blomsnes believes.
- For that we have already done, in countless tests of both electrical properties and practical use.
In addition, the old one is now history, so the only thing one needs to know is that a heavyweight (in two ways) has now become a lightweight (in one way).
Or, as Nexans puts it: Slightly better. One letter combination is gone, and a new one has arrived.
- But one thing is the same old: the color. So if you have any doubts in the warehouse or in the store, go for blue, is the advice from Nexans boss Torbjørn Blomsnes.
Watch video about TQXP on this page
Our websites
Select your country to find our products and solutions