Services
Nexans offers environmentally-friendly drum service
Mar 10, 2022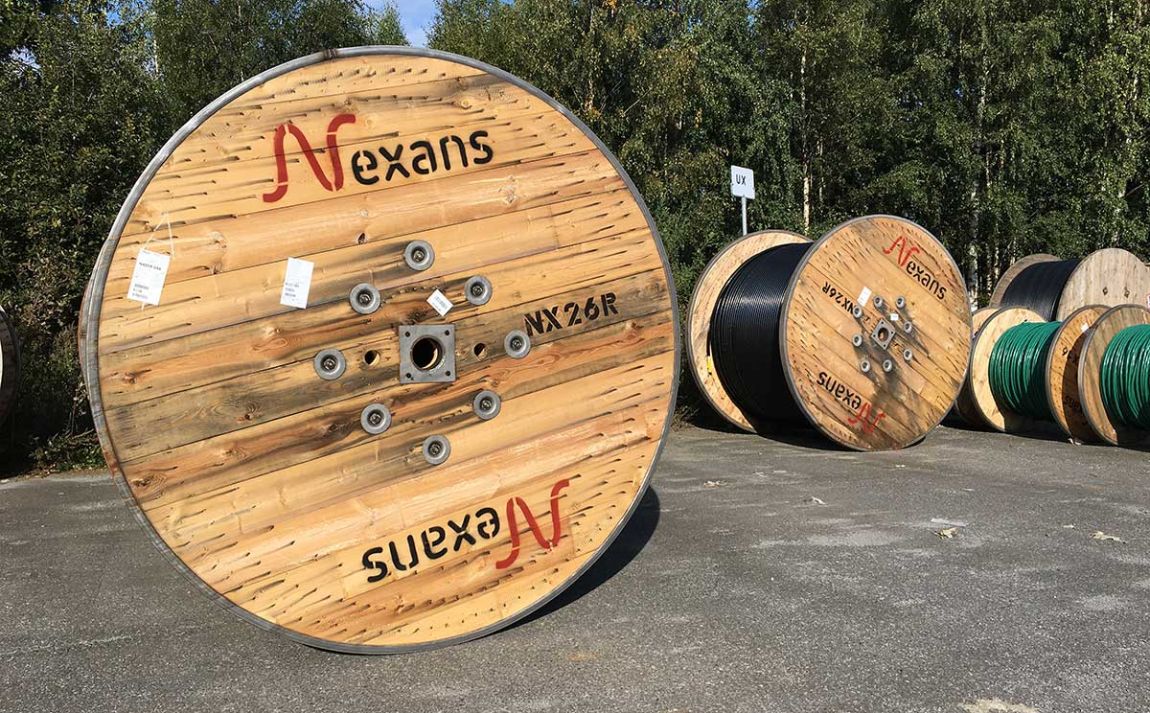 As the only company in Norway and the Nordic region, Nexans now supplies a new type of sustainable cable drum that can be reused multiple times. This also benefits customers, who get paid a deposit and avoid the handling and costs associated with returning the drum.
At Nexan's factories in Rognan, Halden and Langhus, both management and employees have rolled up their sleeves to achieve the ambitious goal of becoming carbon neutral by 2030. In addition to significantly reducing energy consumption and using only clean power sources, they have had a strong focus on recycling and life-cycle management.
Over the past two years, they have also developed a sustainable concept that will be far more visible to customers. A new and improved cable drum that can be used several times, where the customer even avoids return transport - and gets paid a deposit for the used drums.
"The new NX drums are reinforced with a steel edge that extends five centimeters into the sidewall, which makes them very robust. So they can also be used multiple times via the "Drum Run" concept, which is a new innovative and sustainable return service for used NX drums. This will benefit both customers and the environment," says Per Ivar Karlsen, senior sales manager at Nexans Norway.
Also read: Klive AS has tested the return service for NX-drums
Huge benefit for the environment
"At present, we do not know exactly how many times the drums can be reused, but we expect that they will last for a minimum of five to six rounds. This naturally results in a very high reduction in waste," Karlsen explains.
So far, 100 percent of the new NX drums have been reused and deposits paid.
The NX drums are also specially designed to accommodate more cable on each drum. In this way, you achieve more sustainable transport since more cable can now be carried per transport unit.
"When you deliver thousands of drums a year, this makes a huge overall difference. Longer cable lengths also result in fewer joints. In addition to being more environmentally sustainable, it has financial benefits - both for the customer and for us," he says.
A win-win situation
Since the NX drums cost more to produce, customers also get paid a higher deposit when the drums are returned. It also costs nothing to return them, even if there is any residual cable on the drums.
"Returning drums should pay dividends for customers. We believe we have found a sustainable solution that will make financial sense for all parties. This should be a win-win situation for us, the customers and the environment," Karlsen emphasizes.
In addition to paying a deposit for the drums, Nexans also ensures that the drums are picked up - at no cost to the customer, as long as they have at least six drums ready for return.
"The on-site contractors are very happy to not have to handle the drums. Cleaning up the construction site and returning drums is an expensive operation, so this is a service they greatly appreciate," he says.
Nexans is the only company in the Nordic region and Norway with this solution. Karlsen is proud of the efforts made in the development of the NX drums and the new return scheme, which they now aim to further develop and expand upon in the future.
"The environmental aspect has been particularly important in this transition, but at the same time we have been very concerned that customers also benefit from the changes. Using Nexans should pay dividends," concludes Per Ivar Karlsen, senior sales manager in Nexans Norway.
On this page you will find what you need to know about Tromløp.
Our websites
Select your country to find our products and solutions