LANmark Iconnect DIN 6port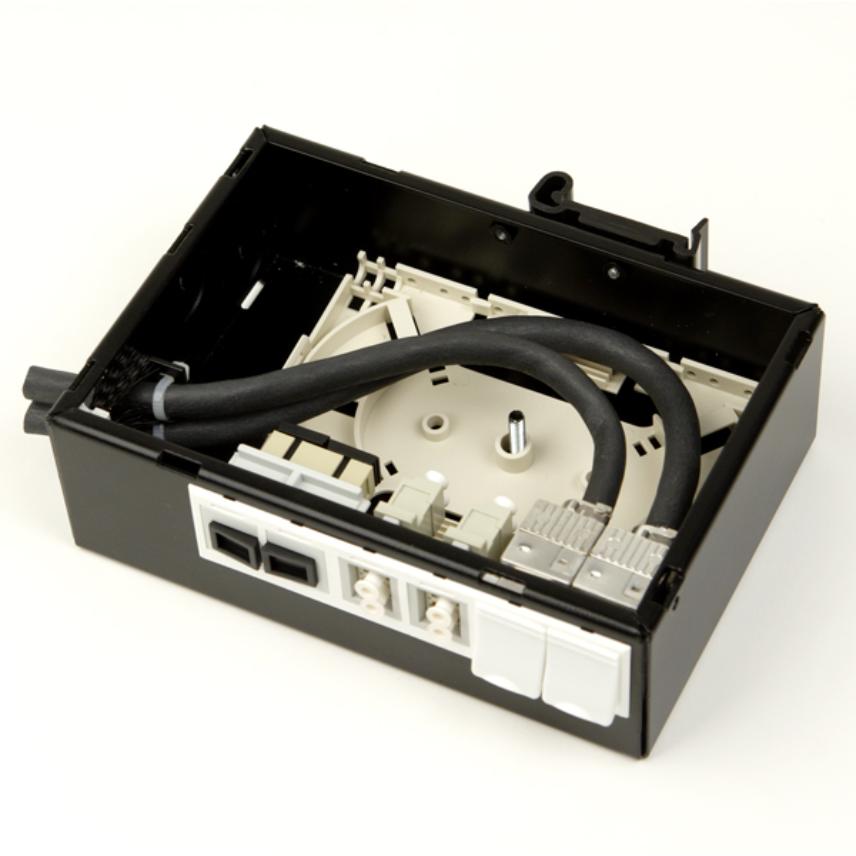 For DIN-Rail mount (35mm)
Data connection for the industry
For up to 6 copper of fibre optic Snap-In connectors (not included)
Splice trays as accessories
For technical enclosures, Wireless Access Points, Industrial cabinets
Snap-In connectors not included
Les mer
Nexans art.nr. : N42i.101
El.nr. : 6916994
EAN : 3427610085024
Beskrivelse
Beskrivelse
Standarder
Internasjonal

ISO/IEC 11801; ISO/IEC 24702
Application
With the deployment of industrial Ethernet, users are installing data networks in industrial areas. The LANmark Industry iConnectBox allows a modular deployment of copper RJ45 /GG45 and fibre optic LC and SC Snap-In connectors in industrial cabinets fitted with a 35mm DIN-Rail. It can be directly locked on the DIN-Rail or screwed on the side onto a wall.
The LANmark Industry iConnectBox is ideal for areas with restricted space. It allows for high density. It offers strain release possibilities, large access to the connectors, easy cable entry for both copper and fibre optic cables.
The LANmark Industry iConnect box can be fitted with splice trays thus supporting direct fibre optic termination, splicing and pre-termination.
Robust metal body, powder coated
IP20 protection rating with individual dust shutters
Possibility of Individual port colour coding through coloured shutter

up to 6 LANmark RJ45 or GG45 Snap-In jacks
up to 6 SC Snap-In couplers (6 fibres)
up to 3 SC duplex Snap-In couplers (6 fibres)
up to 6 LC duplex Snap-In couplers (12 fibres)

Mix of copper jacks and optic adapters possible
Strain release through cable gland or tie wraps
Removable (screws) side cover
Type of cables
Shielded Industrial Category 6 and 7 data cables, AWG 24 to AWG23
Fiber optic cables up to 15mm diameter
Simplex - Duplex and breakout fibre optic cables
Tight buffer or loose tube fibre optic cables
Pre-terminated cables
Connectivity
LANmark Snap-in copper connectors or Snap-in fibre optic adaptors must be ordered separately.
Copper Connectivity
LANmark-5
LANmark-6 /6A
LANmark-7 /7A
Fibre optic connectivity
SC-Simplex
SC-Duplex
LC-Duplex
Splice trays
Management and splice trays as accessories
up to 12 splices
Karakteristikker
Karakteristikker
Konstruksjonsegenskaper
Konstruksjonsegenskaper
Dimensjonsegenskaper
Dimensjonsegenskaper
Length cable end on inner side
Elektriske egenskaper
Elektriske egenskaper
Mekaniske egenskaper
Mekaniske egenskaper
Bruksegenskaper
Bruksegenskaper
Funksjonsbeskrivelse komponent
Cabling and Connectivity solutions
Industrielle installasjoner
Elektromagnetisk interferens motstand
Maks. Kontinuerlig ledertemperatur
Ressurser
Ressurser
Vår websider
Velg ditt land for å finne vår produkter og løsninger