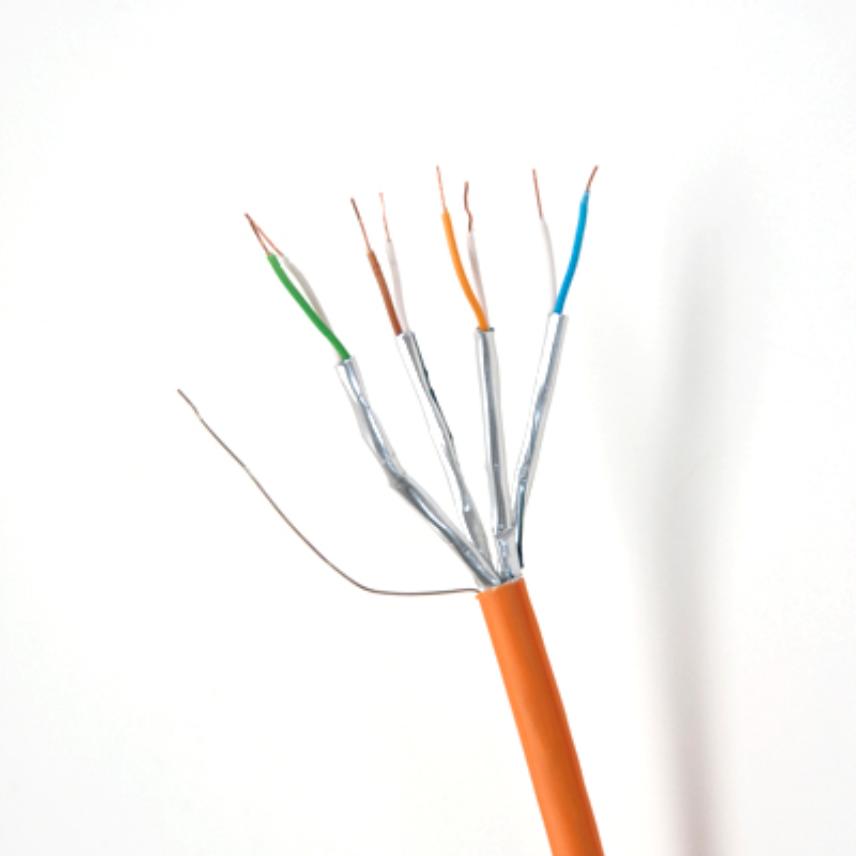 Supports Ethernet applications including 10GBase-T up to 60m
Smaller diameter allows 40% space savings when used in bundles
Guaranteed performance to 500MHz
Fully screened for alien crosstalk immunity
Complies to 'Work area CAT6A wiring performance according to IEC 61156-6 Ed.3'
Complies to 'Horizontal floor CAT6A wiring performance according to IEC 61156-5 Ed.2' for channels of max. 60m or links of max. 50m
Provides +20dB of headroom against Cat6A on NEXT & PSNEXT and +10dB on ACRF & PSACRF
Les mer
Beskrivelse
Beskrivelse
Standarder
Internasjonal

ISO/IEC 11801

Nasjonal

TIA/EIA-568-B.2-1
Application
LANmark-6 10G DC50 cable is a special development to support 10G networking within dense and short length environments such as data centres. It focuses on space saving, by reducing the wire diameters and the supported distance.
The outer diameter is 5.9mm, which allows space saving of 40% when installed in bundles. A typical '6 around 1' bundle of LANmark-6 10G DC50 cables has a circular area of only 246mm² compared to typically >400mm² of an AWG23 cable.
LANmark-6 10G DC50 is a U/FTP cable with 4 individually shielded twisted pairs and as such ensures immunity from Alien Crosstalk and other external interferences. The cable supports a frequency range from 1-500MHz and covers therefore all Ethernet applications defined today, especially 10 Gigabit Ethernet.
Due to the small diameter the signal insertion loss of the DC50 cable is higher compared to standard Category 6A horizontal cable and therefore the maximum supported distance must be reduced to 60m. The following applications are supported:
10Base-T Ethernet up to 60m
100Base-TX Fast Ethernet up to 60m
1000Base-TX Gigabit Ethernet up to 60m
10GBase-T 10 Gigabit Ethernet IEEE 802.3 up to 60m
155 Mbit ATM up to 60m
1.2 Gbit ATM up to 60m
future class EA applications up to 60m
Performance
With guaranteed performance up to 500MHz, Nexans LANmark-6 10G DC50 cables provide the bandwidth of Category 6A products although they are not fully compliant to Cat6A horizontal cable requirements due to the higher insertion loss. Electrically they fully comply to 'Work area Cat 6A wiring performance according to IEC 61156-6 Ed.3'. All Crosstalk parameters are very low. LANmark-6 10G DC50 cables provide 20dB of headroom against Cat6A on NEXT and PSNEXT and 10dB headroom on ACRF and PSACRF.
When used in combination with Nexans LANmark-6 10G Evo connectors and LANmark-6 10G patch cords, and installed according to the guidelines, the full 50m four-connector channel meets Category 6A and Class EA requirements as defined in TIA/EIA568B.2 Addendum 10 and ISO/IEC 11801/2 respectively.
Installation
LANmark-6 10G DC50 cables must be installed using connectors for stranded wires such as N420.667G or N420.67A.
To support the correct set-up of hand held analysers for installation testing, the actual cable NVP value is given in the cable's print legend.
Guarantees
Nexans LANmark-6 10G DC50 cable is covered by a parts and labour warranty as described in the Nexans Certified System Warranty. When installed in combination with other LANmark-6 10G components, a 25 year channel warranty can be obtained, covering 10GBase-T support in accordance with IEEE 802.3an. Also, if following the design guidelines for LANmark-6 10G systems, a 25 year warranty can be obtained according to Category 6A or Class EA requirements.
Karakteristikker
Karakteristikker
Konstruksjonsegenskaper
Konstruksjonsegenskaper
Ressurser
Ressurser
Vår websider
Velg ditt land for å finne vår produkter og løsninger