CSR
Nexans is awarded a platinum medal from EcoVadis for the third year in a row
Nov 2, 2022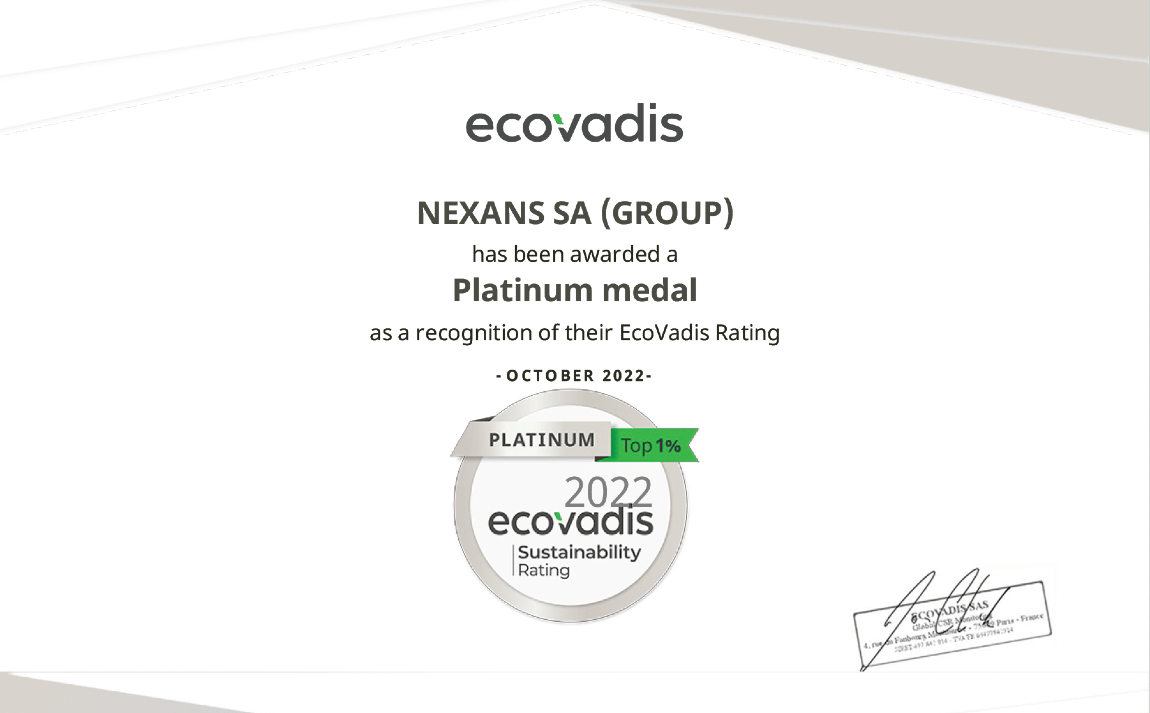 On 14 October 2022, Nexans was awarded a 78/100 rating and a platinum medal for our CSR performance evaluation by EcoVadis.
This is the third year in a row that Nexans has succeeded in maintaining this ranking. This overall score places the group in the top 1% of companies assessed by EcoVadis in our industry's category.
EcoVadis is an independent global organization that assesses tens of thousands of companies each year. They base their evaluation on Nexan's 2021 results and assess the group's non-financial results according to 21 sustainability criteria divided into 4 pillars:
Environment
Ethics and morals
Labor law and human rights
Sustainable supply chains
The evaluation is also based on well-established standards around sustainability such as ISO26000, GRI (Global Reporting Initiative), UN Global Compact (UNGC), ILO (International Labor Organization).
Within Nexans, we also use EcoVadis to evaluate our suppliers' sustainability efforts.
The Nexans group's long-term work with sustainability for many years is the main reason why we are among the top 1%, and here in Langhus we are proud to contribute to the effort to be among the best companies assessed by EcoVadis.
It is a good starting point for our further work with sustainability.
Our websites
Select your country to find our products and solutions